Back in September we reviewed the new features in WordPress 4.0, aka "Benny." We admitted that while 4.0 wasn't as big a step forward as 3.0, it still represented a significant improvement in the user interface. Today we'll be looking at WordPress 4.1, which was released in December and is named after another jazz artist, Dinah Washington. You can read about more features in WordPress 4.1, including the Twenty-Fifteen theme, on WordPress.org.
The first thing you'll notice when you open up the post editor is the larger font size. Whereas all previous versions of WordPress, including 4.0.1, had a size of 13px, you're now looking at 16px. It's true that a larger font is easier to see, but we're not entirely convinced that this change was necessary. 13px seemed perfectly visible and the larger characters just take up more space. Compare the sizes for yourself:
The quick brown fox jumped over the lazy dog.
The quick brown fox jumped over the lazy dog.
Another feature is the distraction-free writing mode, which you can enable by clicking on the button in the top right-hand corner just below the Visual/Text options for your post. Once you start typing, the clutter surrounding the post fades away, but reappears again when you stop and move your mouse away. Thus you can write in peace while your editing and admin tools are temporarily out of view. We think it's pretty cool, especially if you're partial to word processors like Microsoft Word or Apple's Pages. If you want to disable the distraction-free mode again, just click on the button and the screen will return to normal.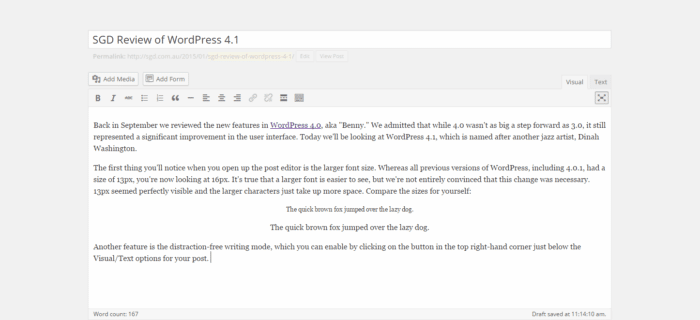 In addition, you can switch to one of over 40 languages on the General Settings screen. As shown, click on Settings > General and then scroll all the way down the page to find the language option.
The Plugins Installer recommends plugins for you based on the plugins you and other users have installed, which comes in handy if you're looking for a complementary plugin or a better-quality alternative to one you already have.
Lastly, you can log out of your WordPress user profile from anywhere, so you can remotely prevent someone from accessing your Dashboard on a shared device.
Well, that's a wrap for WordPress 4.1. All in all, we think it's a pretty good upgrade on 4.0. We also realise that not everyone will be on board with such incremental changes, but we believe that it's less stressful for users to get accustomed gradually to changes in the interface, instead of having a lot of new features thrown at them at once.
Image © Kalexanderson