WordPress 4.0 has been available for about two weeks now and we have to say that, while it's not a huge step forward like WordPress 3.0, it does represent an improvement on the previous version.
First of all, it has an apt nickname: "Benny," after jazz clarinetist and bandleader Benny Goodman, who introduced America to swing music and the mixed-race band. Like Goodman's music, WordPress 4.0 helps you "smooth your groove" as you work on your site. (I'm listening to "Sing Sing Sing" as I type this).
Let's take a tour of Benny and see what the folks at WordPress have created for us…
1. Sticky Visual Editor
In WordPress 4.0, the editor is now content aware and expands automatically as you write. In conjunction, the formatting tools on the right of the screen are "sticky," meaning that they remain in view even while you manipulate the page, such as by scrolling.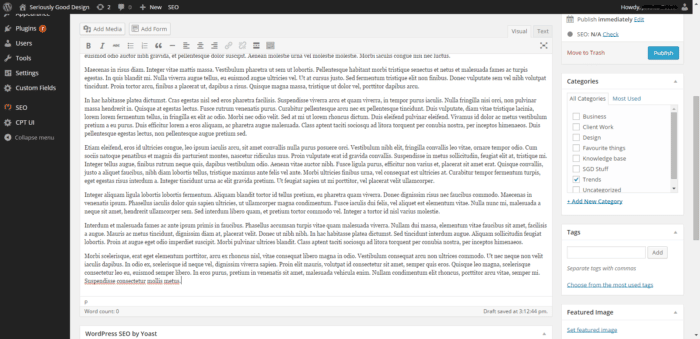 As you can see, the edit box doesn't move until you reach the end of the post because the edit box scroll bar has been superseded by the page scroll bar.
2. Media Library Grid
Instead of a hard-to-browse list of media attachments, the Media Library in WordPress 4.0 is now laid out like the Media Manager, on an endless grid. You can even drag and drop images straight into the Media Library without clicking Upload.
Attachment details are now opened with a modal window instead of a separate page. The forward and backward arrows allow you to easily navigate to other images.
3. View Embedded Media
In WordPress 4.0, you can now see a true preview of your embedded content within the editor itself instead of having to click on the preview button. Unfortunately, this only works with URLs, not with embed code.
4. Search for Plugins (without pulling your hair out)
You can now find the right plugin from among the more than 30,000 free and open source plugins using new metrics, improved search and an overall more visual browsing experience.
Of course WordPress 4.0 isn't perfect, but we give props to WordPress for continually working to improve their user interface. We encourage you to give 4.0 a whirl!