Have you ever wondered how your website stacks up against competitors in terms of accessibility, SEO, social media and technology? Well, you can find out all this and more with a free online tool called Nibbler. Simply go the homepage, type in your URL and in a few minutes you'll have a detailed website report showing your site's scores on a 1 to 10 scale. Whether you're a site owner or developer, you can use the report to gauge how well you're doing in several key categories, including user experience and engagement.
How Nibbler works
Nibbler is an automated computer program (also called a "bot) that tries to find webpages by looking at the first one and following links from that to other pages. Note that Flash websites and sites that require you to fill in a form to enter it will not be testable. Also, some websites use special anti-bot technologies to stop spammers, and therefore they will block Nibbler as well.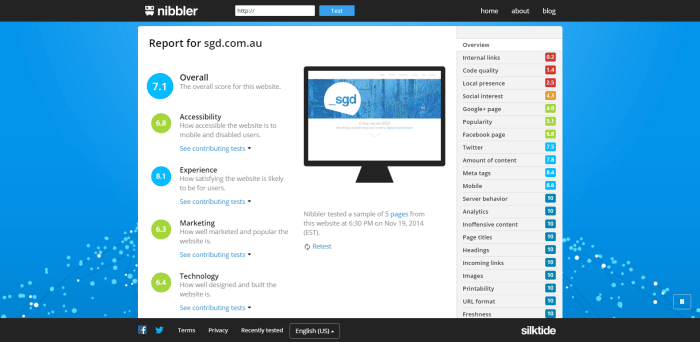 Unhappy with the results?
The test results are quite detailed and usually explain the reasons behind the score. If you're still confused, you can always click on the "Help" link at the top right of the test.
As you can see from our report, we have some room for improvement, but the great thing about Nibbler is that it provides suggestions for how to optimise your site. However, if you're concerned about your scores, consider the following:
Nibbler only tests the first 5 pages of the website that it finds. These are listed at the very bottom of your report. If you want to test more pages, consider subscribing to Sitebeam, which will test up to 250 pages, provide comprehensive reports and perform 40 individual tests all for a monthly fee.
For the social media tests to work, Nibbler must find a link to the Facebook Page, Twitter account, or Google+ page within the 5 pages tested, and these pages/accounts must link back to the website.
Make sure you're testing the correct URL. Remember that www.example.com and example.com (without the www prefix) are different web addresses.