Now that January (the practice month) is out of the way, it's time to knuckle down and kick off our digital comms once again – and it's good to be back!
Let's start by talking about your business and your digital marketing needs for 2020. Do you have exciting plans for your business this year? Perhaps you're looking to expand your business with a new website, landing page or even a rebrand? If you're thirsty for change, we highly recommend a digital marketing shake-up – starting with your website. To get the ball rolling simply fill out our website worksheet and we will get in touch pronto!
In other news, we're also offering some new services to clients old and new including SEO. See more on this below along with one of our super cool projects set to launch in 2020.
SEO Services
Do you need some assistance with your SEO strategy and implementation? Our SEO Packages are tried and tested to deliver real results and save you time and money in the long run. By creating genuine, original content, we help you get to the first page of Google faster and more effectively.
Stay tuned for next month's enewsletter all about our SEO services or click here to learn more now.
Project CarCloud
Recently we were lucky enough to land a partnership with car hire empire, CarCloud. These guys are responsible for loaning automobiles to travellers globally and they required a multi-level CMS and website to facilitate their services. We stretched our skillset to bring to life this integrated website which complements their business allowing them to deliver greatness, seamlessly and effectively. The site features custom functions with a design that represents their brand to a tee. The full portfolio will be live shortly, so be sure to check back in for that!
Content Blocks
Do you love a bit of DIY? If you enjoy the freedom of updating your content yourself, content blocks are here to make your life easy. Here at SGD we are continuing to evolve our custom-built WordPress themes. As part of our custom page builder, you can have the freedom to simply drag and drop pre-built blocks, giving you free reign to lay out your pages and input content as you create it.
Why is this so cool? This update is all about flexibility and making your website more dynamic. We want to make your experience as smooth and practical as possible and limit the need to speak to a developer for minor changes.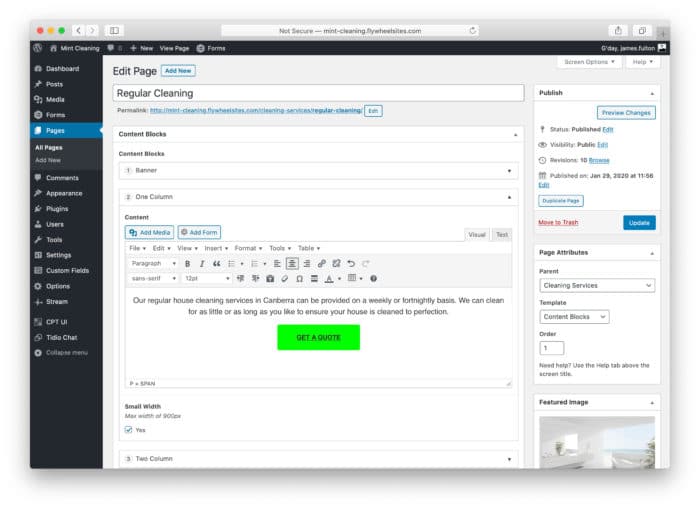 If you would like to explore content blocks or our SEO services, let's talk! Get in touch and email us at [email protected] today.
We are your local Digital Agency, located in Hawthorn Melbourne.