Are you looking for responsive web design? We are a unique digital agency based right here in Hawthorn Melbourne, but in saying that we work with clients all over the world! How? We employ a team of expert web developers, designers, and content creators who work around the clock to deliver excellent (and responsive) websites. It's all hands-on deck here at SGD! If you would like to chat to someone about your website project, get in touch!
So, what is Responsive Web Design?
This phrase gets thrown around between creative types A LOT. It's the must-have feature for any website – hence why it's such a hot topic.
Responsive Web Design refers to the ability for a website to translate across all devices (smartphones, tablets, and desktops). Ta dah! That's basically it! It's SO simple! But, it takes a fair amount of work to ensure an appropriate design for your website to be viewed seamlessly across all platforms.
Advances in this technique have meant that responsive design also factors in the layout and proximity of which a specific device is viewed. The end goal is user satisfaction and a website that keeps visitors on the page – even when viewing on a mobile. or tablet device. Hence why responsive design is also referred to as "mobile friendly". There's really no reason why your website shouldn't be completely legible and functional on a mobile – this is where people do most of their internet browsing after all!
Here's what's involved in Responsive Web Design:
Responsive Web Design is the way in which a developer designs a website with the ability to adapt to any environment. This means the site will function perfectly across all browsers and devices, just like it would on a desktop computer. Developers do this by creating custom-designed websites (that's our specialty!) utilising a format of portion-based grids which will mould to their environment. The images selected are sized into relative units. This means that you won't see stretched images on smaller devices, nor will you have to zoom in or zoom out on tablets or mobiles. An image appears "flexible" on a variety of viewing screens because we custom design these in percentages rather than pixels. This keeps images from extending outside the website's parameters so everything appears streamlined and specifically designed for that device – because it is! We've made sure your site always looks its best. See our portfolio here for some great examples of responsive web design.
How does Responsive Web Design affect SEO
Google favours mobile friendly we know this. In 2015 Google commenced a new campaign which would favour mobile-friendly websites within their algorithm. The algorithm is designed to get the most useful and valuable information sources (based on your search criteria) at the top. Favouring Responsive Design was a game changer for many web-based companies as know that more than half of internet searches are made from handheld devices.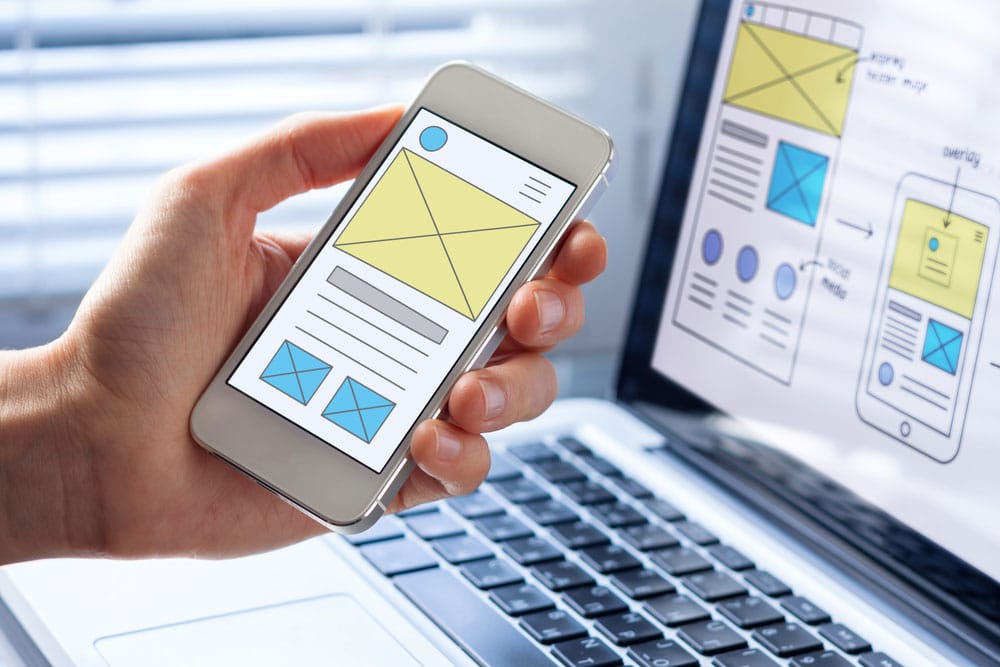 Why choose SGD for your site redesign?
We are the specialists in Responsive Web Design and our goal is to help bring businesses into the digital realm with the best website for their business. We work with clients to re-design existing sites (upgrading them with Responsive Design capabilities) as well building brand new sites from the ground up for start-ups and small businesses without a digital presence. We know how much a great website can do for a business and we ensure that our clients get the best out of their digital investment.
We work with one of the most advanced responsive design tools – Bootstrap. Bootstrap is ideal for working with HTML, CSS and JavaScript as well as APP development. Bootstrap provides us the correct variables and prebuilt components to seamleslly prototype your site across all digital platforms, browsers and devices.
We specialise in helping small businesses achieve beautifully designed websites that drive leads and sales for your business!
If you enjoyed reading Responsive Web Design Melbourne, here are some other blogs you may like:
Interested in creating a seriously good website with us? See some of the websites created by SGD here. If you are ready to get started on your website, get in touch today. We are ready when you are!
SGD HQ | Ground Floor 737 Burwood Road, Hawthorn, VIC 3122