If you google the type of business you're in (e.g. marketing, Italian restaurant, financial advisor, etc.), you'll probably end up with hundreds of thousands, if not millions of search results. That's how many websites you have to compete with for space on the Internet. But there is a way to narrow down those results so that your company's site doesn't get stuck on the 84th "o" of "Google."
It's called SEO, or Search Engine Optimisation. You've probably heard of it; you may even be trying to use a WordPress plugin for that purpose. While the inner workings of SEO can seem pretty complicated ("meta robots" are a case in point), you can still optimise your posts using a few simple tricks. These won't catapult your articles to #1 in the rankings, but they can definitely help them get found by your target audience.
If you want to impress the all-powerful Google Index, you need to have good content. There's just no way around it. You can chuck all the keywords you want into a post, include a catchy title and everything, but if the actual content is poorly organised and written, you're out of luck. A good article will have images to supplement the text (even adults prefer looking at pictures) and will focus on one topic. Avoid "keyword stuffing" as it will be clear you're writing for a computer, not a human being. Write the text as naturally as possible; let the keywords fall into the relevant places.
When it comes to writing the title, try to come up with something catchy (but don't overdo it) and limit it to 55-60 characters in length. In the title tag, make sure you mention the subject in the first few words.
As you browse through a list of Google search results, you'll notice that each site title comes with a short description. This is called a "meta description." The word meta means "information about [something]." Meta tags list information about the web page. As a search engine prowls your site, it gathers information from the title, headings, content and meta description or keywords. It compares the words within each of these sections and "ranks" the site depending on how well the information matches. Here is our meta description:
Now, it's important to write the meta description yourself. Otherwise Google will just create one for you which may or may not be a good summary of the page or post. As with the title, the meta description should be short, sweet and to the point. Don't use more than 160 characters. Make sure that the description contains the same keywords as the page or post. It should also be unique from all other meta descriptions for your site.
If you're concerned about characters and don't have a way to keep track of the number, we recommend using a site like Letter Count, which has some great tips on writing social media posts, articles, research papers and other documents.
Particularly for WordPress sites, categories and tags can help your rankings as well. Categories organise your posts into hierarchies. More specific than categories, tags consist of a word or two. They help search engines understand how your post relates to different topics.
The URL is the address of the page or post. It gives Google clues about the relevance of the content based on the hierarchy. Make sure you include the subject or keywords of the post in the URL. WordPress gives you full control of how your URL (or permalink) is displayed.
Since Google reads all elements on the page including images, it's important to give your image a descriptive name that's relevant to the post.
To make SEO as easy as possible on WordPress, we recommend installing the plugin WordPress SEO by Yoast. As you can see, it provides all the tools you need to optimise every post and tells you whether you've done a good job or not.
As a final touch, you should share your post with your audience. Make sure visitors to your site have a way of sharing the post they just read on social media.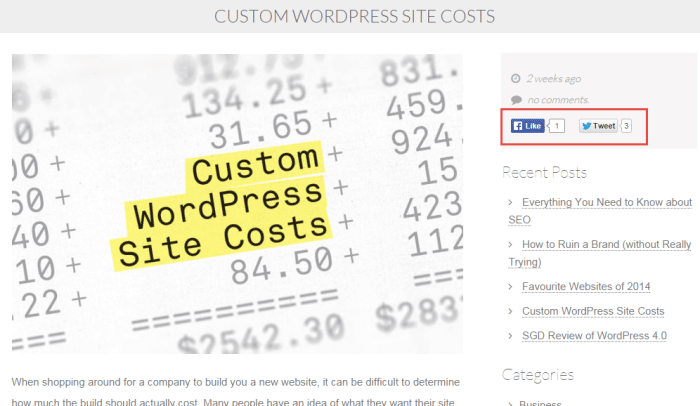 In terms of self-posting, it's up to you to determine whether you should focus on Facebook, Twitter or LinkedIn, but at the very least you should provide a link back to your site.
One of the best things you can do is link your website to a Google+ account. When you post a link to an article on Google+, you prove to Google that an individual human being wrote that article.
Feature image © Bloomua